To See a Dragon
June 1, 2012
I saw a real, live dragon the other day.

My mother, and sister, and I
Shuffled our feet
Six blocks down Vine Street
Through the "rough" part of town.
My mother was scared and wanted to turn around.
I was born to be foolishly, daringly, trusting in these aspects of life
And assured her that our destination was only a few blocks down.
We passed things that sparkled, a painted boardwalk,
Beloved 'Nati architecture, beautifully needing a paint job,
And people who stared.
Regarding to the latter, I imagine only my mother and sister cared.
I knew I was safe.
I had my fingers curled around a heavy flashlight in my purse in case we might
Encounter some uncomfortable situation upon which it could shed some light.

We passed a small room with a woman talking about the Lord so quickly,
Even if I had stopped to listen comprehension was unlikely.
The door was left open wide,
The way it should be, the best way to invite.
This, I found, was an endearing sight.

We didn't take our time
Walking through Over the Rhine
So soon we were turning onto Elder, off of Vine.
On the left there was a long wall
With many paintings with expressions of love and peace in them all.

We crossed the street
And were happy to meet
The oasis we had been journeying towards.
Little did we know of the magic held in its folds.
The first thing that struck us three
Was the heavy, sweet
Smell of the kettle corn that stuck to our lungs every time we breathed.
I was happily and hospitably greeted
By dread locks in pony tails,
Curvy women with earrings as big as my hand,
As well as culinary creations capable of bringing sin even to a holy man.
Trying to avoid the temptation
My sister and I averted our eyes
Only to be peek-a-booed by equally mouth-watering morsels on the other side.
We would have stopped and marveled,
But we were on a mission
To find a tasty sandwich to fill our bellies with what they were missing.
After passing a game of corn hole on the outside corner
(it's a shame they don't know that game down South)
we heard the sizzling of pork-pulled sandwiches
that would serve more than adequate to any hungry mouth.
They asked if I wanted coleslaw on my sandwich
I said, "Sure, why not?" because I didn't honestly know.
They assured me coleslaw was "the way to go."
Then the three of us shared two chairs in a corner in the conditioned air
And shared a table with a man in a handsome hat and wheelchair.

Up to this point
I had wandered and walked
Where others expected me to be shot,
(I know better)
and tried a food which in the past I had not,
And I had worn a pretty, straw-paper hat to hide from the sun and the hot.
Sometimes you must try different and daring and strange
In order for special, magical events to arrange.
And is what you must do to see a real, live dragon.

It was then that I saw him
Walking on two, long legs
Through Findley Market as clear as day.
He had the bridge of his nose pierced
As well as each nostril
His hair was shaggy, soft looking and partly pulled back in a band.
(Let me intercede here to assure you, despite his foreign, curious style of expression
He was actually quite the pleasant-looking young man.)
He wore a green tank top and around his neck sat a boldly large ankh of black.
On each shoulder, I believe, was a tattoo, but I only saw a freely flying dragon.
There was a long, lone, adorned, and beaded dread that fell down his back.
I then recognized it as his tail.
I then knew him as a dragon
With a dragon on his arm
But he did nothing along the lines of breathing fire
So there was no cause, even for a traditional girl as myself, to be alarmed.
I tried to point him out to my mother, but he had already flown away.
I tried again when he, for the second time, passed our way,
But the real, live dragon was too swift.

We moved on
Saw necklaces of watches, and soaps, and pitcher plants, and smelled sweet peaches,
Thankful that the heat was beat by soft, cool breezes.
We bought bread from Nay Nay.
(If you haven't bought her bread
You only have a scarce idea in your head
Of what bread could be.)
Heading back, lo and behold,
Was the boy with the tail whose tale I had to my mum told.

I whispered to my mother as we were approaching,
"Up on the right in the green tank is the real, live dragon."
She finally witnessed the creature.
He wasn't what she expected, surprised by his over-all pleasing appearance
and handsome features.

In order to see a dragon,
your fears and prejudices must be gone.
It may happen tomorrow or it may take long.
But when you see him, you can't help but smile
Because such a sight makes life's uncertainty in adventure worthwhile.

So is the tale of spotting a member
Of a rare breed
Known as special.
The way I see it,
There is a possibility
That I, as well, belong to this breed
Except, I'm not a dragon,
Upon reflection I found I am a turkey.
But both turkeys and dragons occasionally fly
So I hope some day, I'll again meet that dragon
Somewhere in the sky.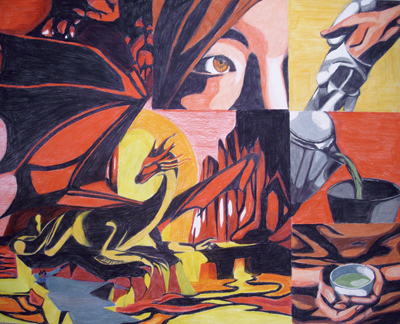 © Weike W., Rochester Hills, MI