The Festival of the Stars
June 6, 2012
An auroral moon rises,
Floating lazily above
A Hope Diamond sea.
Forty-six whistling bicycles tumble
Down the seaside avenue,
Their riders cowboys
In brilliant taffeta and wildflowers,
Diamonds and turquoise,
The pearls of the west;
And in dinner jackets of silk,
Buttoned shirts with tails flying
Down the seaside avenue,
Alabaster as the sleepy moon.
Ninety-two Chinese lanterns
Bounce from
Forty-six handlebars
Strung with twinkling lights.
The Festival of the Stars—
El Festival de las Estrellas.
Our taffeta cowboys;
Our bolo-tied cowboys
Waltz beneath a chandelier sky of stars,
To an orchestra of sloshy waves,
On a ballroom floor of sea-smoothed rocks.
And I,
Laying aback in my blanketed grotto,
Watch the midnight party,
Aglow on the craggy pier.
Crayfish, oysters, starfish
Wade in the pools around me—
My own Festival de las Estrellas.
The night sky reflects in the tidepools,
Leaking inky blood
To drown my starfish.
My eyes meander
Up to the heavens.
Up to celestial ballerinas
Performing an aerial ballet.
But the arid desert is empty,
And there is no audience,
Except for me
And my cavern of fish.
The pier beyond seems dusted with
Glitter
And bubbly with
Champagne.
I have hot chocolate,
Which is delicious inhaled with
The salt-speckled breeze.
The rock is cool at my touch,
And my grandmother's Hope Blanket,
El Manta Esperanza,
Resting on the floor beneath me,
Prevents me from drowning into the
Dark, chill stone.
The mouth of my cave is like
A motherly beach umbrella,
Which I don't really need,
And so I set my cup aside
And rise.
The Spirit breeze lifts and guides me
To the rocky beach.
I think it odd that,
Just five miles;
Ten thousand footsteps;
One and one-third leagues
From a coarse, homey desert
Is a luscious and mysterious ocean,
And just a dreamsome slumber
Away
Are the stars.
As I,
Now cold from the midnight water,
Stand upon the rocks,
I also think
Of all of the partygoers;
Festivalgoers
Who have grandmothers
Or abuelas,
Such as I do,
Who watch down on our celebration
From the stars.
I also think
Of what a dream it would be
That I could
Mount a lanterned bicycle
Strung with twinkling lights
To mimic the stars,
And ride up there,
With Mother Moon to
Protect and
Guide me.
The wishes of the young men and women,
In bolo ties and swishy skirts,
Are shooting stars
In the Hope Diamond sky,
Which touches down to the Hope Diamond sea,
And
Undersea pearls,
Hidden from view
By their own Mother Moon,
Reflect back into the sky as
Shining stars—
And thus is el
Festival de las Estrellas.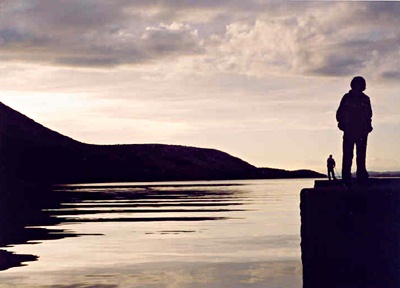 © Julia K., Nagykovacsi, Hungary