You are the Color to my World
May 30, 2012
Dear Love,
Two years ago I never would have guessed you'd be here,
by my side, my best friend, my love.
My secret keeper.
A hand to hold in mine.
We let our souls intertwine as we wind through time.
Things get bad, they get really rough,
but even when dark clouds roll in
love always shines through to make this feel new.
We may be young, but I know this isn't foolish.
No one can see what we've seen, go through what we've been through,
and feel how we feel, without knowing it's love.
You are the smoke to my fire.

Now these dreams won't fade,
just like the high I get when you touch my cheek, seeping into my soul.
When you were gone, I realized there's no place for me in this world.
No place unless I'm hidden in your arms.
Protected from this world's harm. Held to no expectations.
Loved beyond the capacity of ones heart.
You are the lyrics to my love song.

You take me to a place where waves crash and tides swallow my fears.
Fears of today, Fears of tomorrow, Fears from yesterday,
All to be engulfed by confident currents ripping and shredding, drowning and suffocating our bad times.
Letting the sorrows of yesterday drift away,
you re-open my eyes to a beautiful sunrise of simple, sweet memories.
You are the solution to my problem.

I see the rainfall as we watched fireworks on the beach,
I see the people dance as we celebrate my 18th birthday,
I see my phone ring as you call to say goodnight.
At last, I see my favorite memory of all.
I see you smile as you tuck my hair behind my ear and whisper, "I love you."
The warmth of those three words sends smiles through my veins that takes away all the pain.
A tale of two young, troubled hearts finding their way into one.
A story that has only just begun.
You are the paper and I am the pen.

When there's a beginning there is always an end.
but for now I'd like to pretend that forever is the definition of over.
Without a doubt in my mind, I know that having your hand in mine can keep me safe in time.
It will take me where I want to be. It will show me a place to call home.
You will bring me higher. Nothing will stop me and bring me down.
As long as you're around I can be worry free.
You are the calm to my storm.

Your voice is like a melody in my head singing sweet lullabies to my anxieties.
You were there when she was diagnosed; you were there to tell me everything will turn out right.
And here you are, standing in front of me telling me "I told you so."
You are the sound to my laughter.

Take my hand, soak into the morning sun, let the waves relinquish your fears.
Submerge yourself in our sunrise of memories and walk down the sand,
hand-in-hand we waltz to the future that lies before us.
Our pastel past fading as we walk into the bright shining sun.
You kiss my cheek. I turn my head, grab your hand, and whisper in your ear,
"I'll always be right here."
You are the color to my world.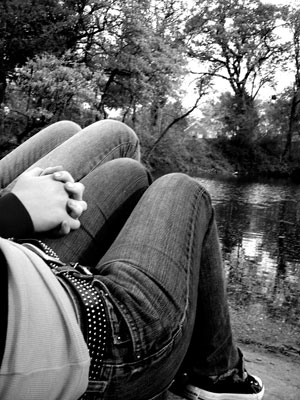 © Lauren R., Edmond, OK