A Summer Night's Dream
May 29, 2012
The new night breathes on me softly,
The content breath of a sleeper
Deep in dreams.

Trees along the path stand guard,
Their arms waving to me in the breath
Of the night, trying to snatch
My attention; they whisper,
"Don't go."

The soft crunch of the stones and
Dirt underneath my feet, a symphony,
A dirge, the last slow dance,
Each step carrying me further
And further
And further
Away.

The night is becoming restless,
Tossing and turning, breathing heavily,
Dreaming. Possibly.

The weight of the picture in my pocket is
A terrible burden on my body and
My mind. I'm shocked it
Hasn't torn through my pocket
By now.

There's the creek. Cheerfully chattering
Even as the weather slowly spirals
Downwards towards the fires of Hell.

The picture, the weight of ten thousand
Worlds, universes, rests
Between my two fingers, edges bent,
Another crooked memory.

The wind screams at me,
Begs me,
To stop, to reconsider, to turn back.
"Do you really want to forget?"

I let the picture fall into the creek,
And watch the current of my mind
Whisk your face and memory away
Forever.

The night is convulsing,
Sweating, bleeding all over everything,
Trapped in a nightmare.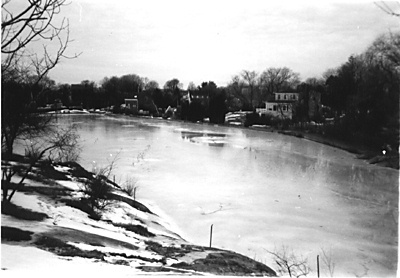 © Leni K., Marblehead, MA