The Mighty Ocean Liner
May 29, 2012
The mighty ocean liner
Sailing the wide seas.
The Atlantic Ocean
Is its home.
Traversing.
Many miles of water,
Nearing the city.
Of One Thousand Canals,
Venice.
Its passengers disappear.
The powerful engines,
In reverse.
Drawn towards the heart,
Of the City,
Of one thousand canals.
Gravitating,
Towards the center,
By an unnatural force.
Powerful and strong,
The mighty ocean liner,
Wrecking artfully crafted buildings.
The Rialto Bridge,
Is destroyed,
Crumbling bricks.
Splash in the water.
Gondolas,
Helpless,
Crushed swiftly.
The gondoliers,
Abandon their gondolas,
There livelihood destroyed.
At the mercy of,
The mighty ocean liner.
The foghorn blows,
But the captain,
Not there.
To war n the people,
But it makes no sound because,
There's no one to hear.
The mighty ocean liner,
As it eerily cuts,
Through water,
And bridge.
And building.
Carving a path,
The engines tug the boat backwards,
But the pull is stronger.
The mighty ocean liner,
Is at mercy of,
The unknown force.
The captain,
Cries for help,
But no one hears him,
Because,
Venice is empty.
The water ripples,
Then goes still.
The mighty ocean liner,
Has reached the center,
The final destination.
The force unknown,
The mighty ocean liner,
Finally goes to reverse.
Leaving the city,
Of one thousand canals,
In the exact same way,
It entered.
The city,
Quietly rebuilds,
Itself.
The residents reappear,
The Rialto Bridge,
In perfect condition.
On the boat,
Passengers reappear,
The captain forgets,
All that has occurred.
The unnatural force,
Still unknown,
But the mighty ocean liner,
Doesn't care.
It keeps sailing,
Never stopping,
Because nobody,
Remembers.
The mighty ocean liner,
Because it's non,
Existent,
It was never real.
This was just,
A figment of,
An artist's,
Convoluted,
Imagination.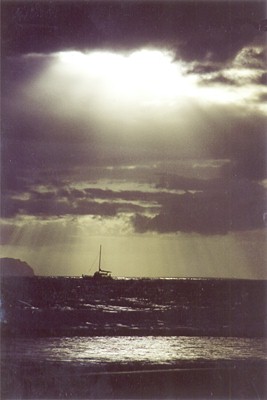 © Lily H., Kekaha, HI