A Storage Bin
May 25, 2012
to the sick and to the dying man
hold fast
remain strong
be brave
the Lord goes with you at your side
and will show thee to thy grave
yet the coffin is merely a storage bin
for your body will rot
but your life will begin
your true resting place rests in He
Who takes the sorrows and woes of this life
and tends to them by means of a tree
a tree cut down to two long boards
fitted together with nails in the wood
by the hands of a carpenter's son
and a Carpenter's Son
was there hung.

to the sick and to the dying man
though you be ill
and you suffer
take consolation
for none will or has suffered as did He
Who took thine iniquities to a tree
a tree that His Blood stained and absorbed
a tree that He carried midst the probing taunts
and whips from soldier's weapons and tongues as sharp as swords.

how can love be in a tree?
yet love took a tree and made it His
and left it on a hill
as the Lord was carried to His tomb
His body shriveled
His Spirit stilled
yet this was merely a storage bin
He rose in splendor with glorified Name
and the blood which flowed and soaked His Hands with sin
upon the tree He hung
was stoppered
and drained
and poured upon souls and souls and souls of His claim

so to the sick and to the dying man
put thy hands to the tree
allow His Blood to cleanse you clean
your true resting place
rests
in He.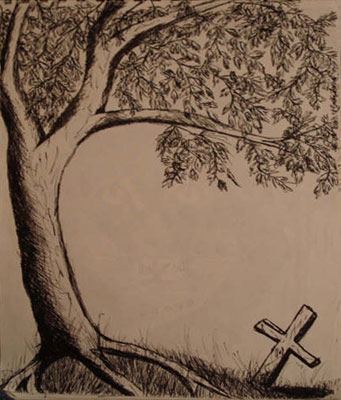 © Courtney K., Bethel Park, PA