Noticing Nature
May 20, 2012
I know nothing quite like a spring day.
Slowly strolling in a peaceful park,
I feel as bright as the giant shining sun.
I wish that spring time lasted all year long.

The soft meadow feels like a big bed.
As I look up at a lake of blue,
Clouds make fascinating figures for me.
My body is bursting with silent laughter.

I enjoy noticing nature.
Gentle winds whistles through calm air,
Causing new leaves to dance in the tall trees.
The presence of nature brings pleasure to me.

I leave my busy world behind.
My worries fade far away from me,
Feels like millions of miles are between us.
Wishes of never leaving fill my mind.

A flare of fire fills the clear sky,
The sun is suddenly fading,
Leaving a sky of dark blue behind it.
The spring day has come to a soundless end.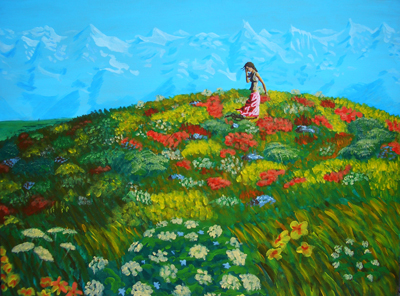 © Allison F., Langhorne, PA