Optimism's Prodigality
May 21, 2012
Diabolic perspiration danced down his face.
Bloodied inspiration putrefied to waste.
As humanity trudged
Through the sludge of history.
Demonic twists of barren thought
Taught him it was all for naught.
Each prick of acidic rain
Bleached him of a foreign pain.
Damp scars surrendered in their wake
The tearstains of a blackened lake.
Shivering, his soul was weak,
A cloying mind—his spirit bleak.
Old lessons penciled to his heart are
Stalwart.
A grimace peeled light from his face, but
On the terrace kneeled an empty space,
Glimmering.
Simmering with a leper's hope,
His raw hands took a tattered rope.
A hopeful tune leaked from his heart,
Shedding tears of lonely joy,
As it pulled him to a soft embrace.
His withered heartstrings turned their face
And smiled.
The miles they'd waited, neglected,
Forgotten, lost in words never selected,
But now reunited;
A candle lighted.
Warm wax leaked into his veins,
Its tax cleansing the darkened stains.
Laughter in the still pavilion,
Laughter in a strong battalion,
Stroking the harp-strings of his vocal chords, and
Cloaking the ramblings of the evil lords
That whispered.
Quietly, with a smothered giggle,
His heart's frayed pages gave a wiggle.
Sleek wooden pieces of an elaborate puzzle,
Their fingers entwined, grief caught in a muzzle.
Delicate flowers and vines tickled his soul.
Ugly towers and signs left like a ghoul.
Old lessons dissolved to dust and rust.
New learning evolved—trust, not lust
For the grave.
The bridge of life, whitewashed and worn,
Is brighter than the end, they've sworn.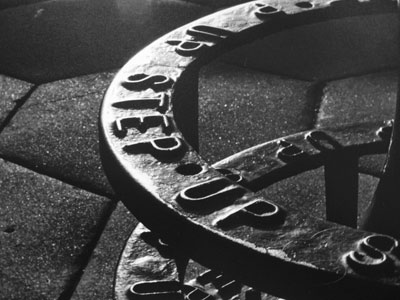 © David D., Apple Valley, MN