The Iron Jungle
May 20, 2012
All around, I see
Precise, sharp angles
And square objects
The fierce wind howls
Protesting small, steel spaces
Between high towers

Concrete sidewalks
Can only be two colors:
Light grey in the sun
And dark grey after rain.

I wish I could drop
Splashes of gumdrop pink
And daisy yellow,
Filling holes and cracks.
Maybe then, the man in
Pinstriped suit will pause
To look, late to the place
Every day he goes at eight.

I want to run to the 30th floor
And spill out puddles of petals.
Into the wind they'd descend
And scatter to amaze
The old lady who hangs the laundry
Every afternoon at two.

I would stand at the corner
Of 52nd and 3rd Avenue
Handing out lollipops
To strangers who never did think
There was a world beyond
Their own.

Make everyone stop,
Forget their duties,
And remember that the world
Is filled with more than
Grey, black, and white.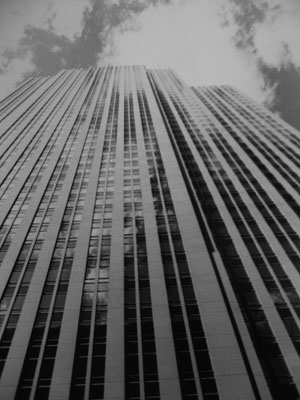 © Aaron B., Eagan, MN