East Coast Sunrise
May 30, 2012
Blue, flecked with dark ripples,

Fringed with lavender sky,

Spreads out like a table, over which the sun is rising,

A molten sphere reflected in the ocean-glossed shore.

A ship's light winks on the horizon.

The sky brightens.

Lavender gives way to rose.

Light, golden and pristine, leaps onto the waves,

Shimmering, laughing, dancing their silent songs of praise.

Frothy waves glow,

Humming every shade of red, gold, pink, blue.

They whisper and hiss

And coo and roar,

Rising and falling,

Dipping and cresting,

Then plunging their foam-laced faces onto the beach

In an age-old attempt to wipe her smooth.

She gleams like polished glass.

Rose gives way to yellow.

The waves glint and glimmer with a joy

Matched only by the birds of the morning,

Cutting and diving through the liquid, lucid, lovely, light.

Blue, flecked with radiant dawn,

Fringed with ribbons of gold,

Spreads out like an open book

Whose story this day will write.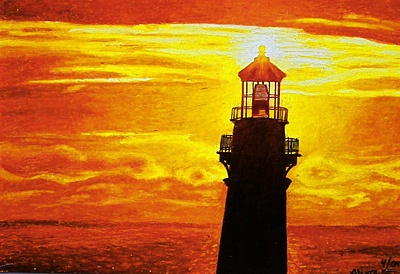 © Alyssa G., Charlotte, NC