Swings
May 30, 2012
The snatch of the chains
and their jangle in the air
that chills my sweat
and burns each breath
and turns my teeth
from pearl to ice
as I gasp and grin
and wriggle onto the swing
and don't for one second feel cold.

My toes touch gravel,
my heart, the sun.
And it's all your voice
that I've missed for so long.
It's exactly the same,
exactly right-
It's easy and silly
and cool and slight.

The groan of the chains
as we fall through the air
and our rhythms start pumping
to different times,
leaving me craning
always straining
to catch your words
as they fade in the wind
and then swell back again.

Between us, the distance
strains and relaxes,
stretches and collapses,
like our voices in the throes
of the gravity that throws us
apart for a moment,
and then side by side
swinging us farther
and closer
and farther
and farther, and farther
apart.

But now here we are
on a pair of rusty swings,
listening to each other
and the good, simple things,
watching the sun swing down through the sky
our worlds side by side-
For a time.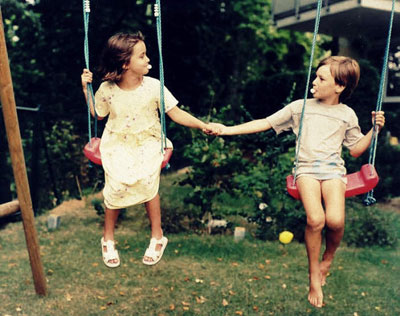 © Lauren K., North Kingstown, RI