Angels
May 24, 2012
I see them falling from the sky,
Glowing bodies, I hear their cry.
They outshine the sun, whose light is so bright.
Their luminescence gleams radiantly in the darkness of night.
These beings show me the way I know is right,
Even if to follow them takes all of my might.
Their love covers me like a never ending waterfall,
So that I may have the confidence to stand tall and hear their call.
Most of the time I cannot see where they are,
But their existence truly overshadows mine by far.
I'm looking at their home when I gaze in to the stars.
It lies up above where I one day hope to be,
Though this will never happen if I choose to not believe.
Now they return back up in to the sky.
Tears fill my eyes as I sit and watch them fly.
Will I be one of the people they stand beside?
That is my ambition because in Him I confide.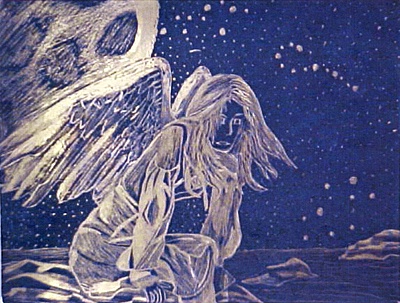 © Kaylen C., St. Clair, MI