Eulogy to the Sun
May 21, 2012
A thousand ghosts sing a eulogy to the sun
from the safety of silhouetted bushes
and pray for his return from the underworld.
The horizon's jaundiced complexion fades to black,
engulfed in the abyss of the night sea.
Waves torrent the gentle surface like a lawn mower,
as the return of a frothing white glaze is engulfed by amorphous sand.
Dull stars decorate the night's figure like body glitter, seducing the eyes of dreamers.
I feel my body become swallowed by the tide
as liquid arms reach forward and hug my ankles,
sliding between my toes and stealing my footprints,
reminding me that I am lost.
I can taste the ocean's tears in the wind now,
and hear her cry as she falls to the shore again and again
unable to drown the sound of the crickets praying for the sun's return.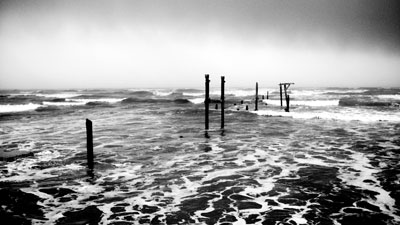 © Harrison L., Ruston, LA