No Expiration Date
May 21, 2012
Laying on the cold hard ground,
Looking up at the dark night sky,
The grass is wet.
I can barely move.
I struggle to keep my eyes open,
But I can't
As they close,
I hear footsteps,
I don't know who they belong to.
I'm afraid to move.
I turn my head slightly,
I see a figure in the smoke
It's coming closer
I m frozen with fear.
Just barely breathing!
As he stand over me,
Crying seems like my only option,
But I can't!
He's thinking he has won,
I see his hand in the mist.
He's reaching for my arm,
No! I'm screaming,
Not like this!
Just one last fight!
There is much more to do!
College,
A family,
A white picket fence.
I can't see his face,
Only his figure,
Yes!
He's backing away.
Go away! Far away!
As I lay there,
His figure dissipates.
I can hear the sirens,
I see the wreck,
I can feel the pain.
There's a man,
He says it's alright.
OMG!
I've cheated death!
And I now know,
I shouldn't have sent the last text.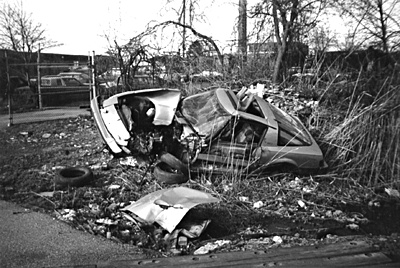 © Ashlee M., Wilmington, DE