The Little Foam Flower
May 22, 2012
I sit looking at the little foam flower,
Its pink petals so fragile and weak.
I bought it as a souvenir,
On a tropical shopping spree.

Now many months later,
And thousands of miles away,
It's so freeing to see.

The memories take me back,
To the island afloat the sea,
Where I spent my summer days,
Weightlessly free.

I hear the girly giggles,
As we skipped along the beach.
And I see the large, leafy, leaves,
Of the breezy palm trees.

I meet with happy locals,
From the islands in the sea,
Where people yell "aloha"
And "mahalo" at me.

I fall asleep at night,
Listening to the calming ocean,
As it breaks along the beach.

I wake to the sound of seagulls,
And the smell of salty air,
And my best friend yelling,
"Come on! We have to get out there!"

With so many possibilities,
Of how to spend our days,
We lounge around in lawn chairs,
And laugh and joke all day.

We visit the Pools of Oheo,
And the Grand Weilia,
Where we learned to Hula.

We eat shrimp,
And drink smoothies,
And at night we watch movies.

We took the Road to Hana,
And got rained on a few times,
But laughed about it later,
Cause it was such a long ride.

We Zip lined through the forest,
I took a lot of pictures,
We went shopping at an art fair,
And I bought a lot of gifts.

But the one thing,
That reminds me most of my trip,
Is the little foam flower,
Whose petals are fragile and weak.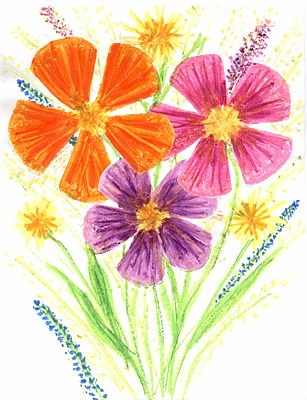 © Marissa M., Rockford, MI