Bridezilla On Fire
May 22, 2012
She wakes up with a smile on her face.
Today is the day she's been planning her whole life.
She stares at her ring that glimmers
like a sun setting on the ocean.
This is her day.

Bridezilla.
She screams, yells, and throws makeup
At her trusted friends.
Duck and cover is all they can do.
This is her day.

"Bring me my dress!!"
It's time to get ready,
The dress won't zip…
All the bridesmaids gathered around
Pulling, squeezing, and sucking her in,
The dress just barely makes it up.
This is her day.

She starts to spin in circles,
To show how magnificent she really is.
"I am the most beautiful bride there ever was!"
Swirling, Swirling, Swirling some more.

RIPPPP!
There goes her dress.
She screams, the zipper couldn't hold.
She trips on the train of her dress.
And there she goes…
Right into the candle flame

Her flammable hair lights up in orange, red, and yellow.
The flames leap to her white dress.
Bridezilla is gone.
The wedding is off.
All that is left is her glimmering ring.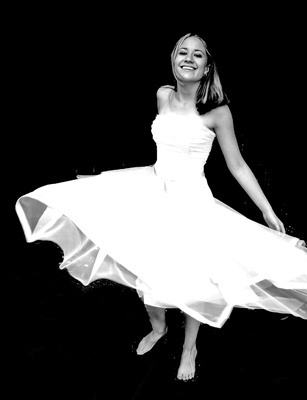 © Kara S., Walnut Creek, CA