A Rising Gale
May 23, 2012
Azure, the sky filled with tremendous clouds
So beastly and mischievous,
Leaving you breathless as they slowly overcrowd
The unsettled atmosphere.

Disturbed, the ships are tossed about
Like a small child's toy
While tousled waves crashing against
Their neglected bodies.

Unsure crew members frantically prepare
For a tussle with the tempest
Whose overwhelming efficacy
Silently declares their capitulation.

Untamable, the somber and blackened sea
Cradles its desperate company
Who, with a wordless plea,
Fight for a surrender.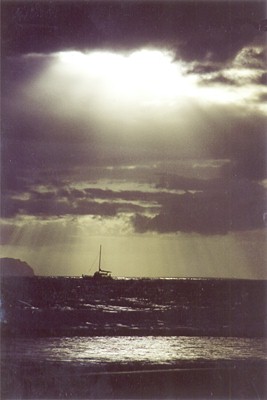 © lily H., Kekaha, HI