Despair
May 6, 2012
How can the flowers bloom so?
When all around is despair.
To press onward through life,
And all other trials have no compare?

To breathe in such a sweet scent,
Or to behold a beautiful sight,
To even grasp that the world goes on,
When inside there's no fight.

To think that all is lost,
To lose the grip of the rope,
To crumble into nothing,
To lose all hope.

To watch yourself plummet,
Into your own dark abyss,
To lose your grip on reality,
And think no one shall miss.

For even a thousand tortured souls,
Couldn't imagine how you feel,
Now you're trapped in your twisted dreams,
Where everything seems real.

Desperately you try to escape,
The fiery pits of Hell,
But now you are weakened,
So the farther you fell.

Soon you were greeted,
By the master of demons,
He stares into your soul,
As if he knew all of your treasons.

You wish not to be tortured,
So you begin your pleading,
He maliciously smiles,
And keeps on proceeding.

He puts the shackles on,
"Now let's begin the game,"
First he starts with the whips,
And then comes the pain.

He continues with the torturing,
Tortures you couldn't even dream of,
You pray for help,
But there was no sympathy from above.

Soaked in blood,
You're now on your knees,
With no other hope,
You continue your pleas.

Shaking and trembling,
You wish you could go back,
But all of the bartering was useless,
His heart was black.

He dissembles your body,
Everything but the ears and eyes,
"I'm so glad I left you ears,
So you can hear your cries."

"And for your eyes,
I wanted you to see,
When I take your soul,
And you cease to be."

You can bear no more,
All you want is one last breath,
The devil laughs and says,
"Nothing is easier than death."

Joyfully he raises the guillotine
Fear fills your heart,
You would have trembled more,
If you weren't torn apart.

Then the cord snaps,
And with one final swoop,
Nothing was left,
Except a bloody soup.

When that last fatal strike was made,
Everything went black,
All you could hear was the screaming of the blade,
And a very loud CRACK!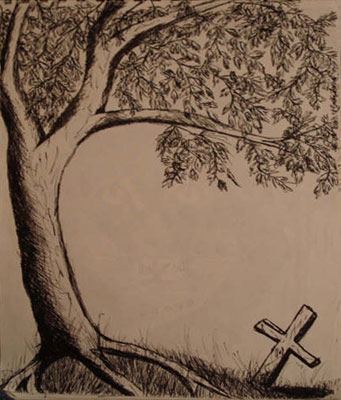 © Courtney K., Bethel Park, PA