Missing Brown
May 22, 2012
My life is on a grayscale; a delicate clash of black and white and everything in between, its funny though, as I close to always write with color. I wipe memories of contrasts and adjacent tones across a page, I grab at ghosts of hues to say what words cannot, but I do not SEE these. I try and remember what I've been told of them.

 I do not see purple, a color that bares weight like an ox. Strong and responsible.
 
 I can not see orange a color that bounds across sidewalks and over swimming pools with no tie to hold it back, a color of warmth 

 I never quite catch green, a furtive color that sneaks and slips between cheeks, the color of gossip, a color that swings greedy attempts at attention kid-napping. 

 I do not see yellow; sweeping this way and that, chasing clouds about a horizon, always playing as a child will, like the wind.

 Nor do I see blue, found sliding around, so balanced and smooth, a color that moves. An obvious pace.

 I wish to see pink, a color that mends and whispers, sweet and calm, and smells of bread, or peace-time lilies.

 I have never seen red. A color so vile. It strips a man of himself, turns women to dogs, pushing continents further and further, that color that I hate.

 I only faintly remember brown. So tender but quick, it held me close once, and it told me to come home, and eat, a color of that hair that caught so many of my angry nights, then pulled east, out of my peripheral.

No. I do not see these anymore, they taunt and tease and mix and match, they often confuse me to the point of tears. By god I need just one that I can feel.

 I miss brown.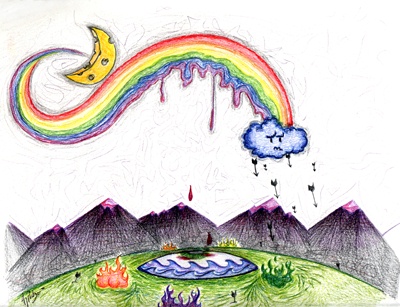 © Alexa P., Ridgeway, PA