The Formation of Future
May 6, 2012
Recently I stepped into a sphere,
an intimidating sphere,
swirling with an overwhelming, suffocating fog.
No sight up, down, right, or left,
suspended only by my pursuit of destination.

But what greatness is relief
from fear of falling,
for where there once was thin air
exists solid ground,
sturdy and certain beneath my feet.
My trouble now cut down
to a dimension half as menacing.

I exist now in a dome
still surrounded by mist.
But not fog.
And on the driest of days
the chill of the mist so unfamiliar proves refreshing.

Materializing to my left are solid shapes,
tactile shapes,
a bit blurry but recognizable.
To my right the mist has changed color,
from formidable gray to brilliant blue.

With another deep breath, I stand in a corner
looking out upon a hazy room,
a room with no opposite bound.
I can look anywhere but behind me
where there lies a stone wall as my permanent backdrop.
But no.
I do not feel trapped.


There are still patches of uncertainty,
their presence the perfect dose of thrill.
But my compass now has direction,
And I am looking forward.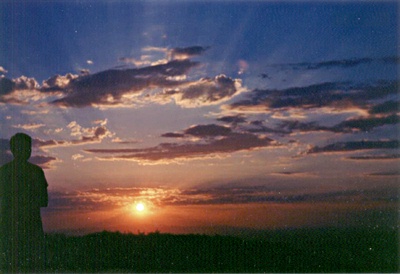 © Jovee B., Dededo, Guam