What Gives You The Right?
May 17, 2012
What gives you the right?
I like him. What do you know?
So do you.
You're not dating him.
I am.

Yet for some reason,
not known to me,
You want another.
You want mine.
He's mine,
I had him first,
I caught him first,
I loved him first.

It's not my fault you let him slip through your fingers,
I'm glad you did.
You lost your chance,
Your time ran out.
Your black sand ran through the hour glass.

Or so I thought.
I was wrong;

Your hour glass wasn't empty.
It was just turned on its side,
The second you laid your medusa like lips on him,
Your hour glass began again.
You turned him to stone for a time.

He was cold, distant,
He wasn't in my sight,
Like a gnome in your
Sick, poisonous garden,
You surrounded him,
With your strangling vines
Making him impossible to see.
Congratulations, you had him.

Yet he pushed you off, like a child getting rid of their veggies,
I bet that felt great.
He didn't want your nasty, dry lips on him,
You mistook his messages to you.

What I don't understand,
Is how you got that little idea in your head?
How you thought you could kiss him,
How you thought you could flirt with him,
How you thought you could have him,
And not get caught.


You wouldn't have gotten caught,
If you only kept your mouth shut.
Telling people that you put your poisoned,
Mistress lips all over another girl's boyfriend,

I'm glad you didn't.
You opened your enormous, sick mouth
You're a fool.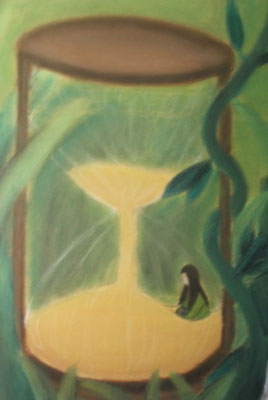 © Carollynn G., Hawthorne, NY