Artists Struggle Too
May 18, 2012
Paint splatters
Lines curve
And metal bends




I have traveled along this muddy path,
So prepared, so confused.

Brushes fly
Tweezers remove
And markers mix



I have struggled to keep up with the flow,

While balancing to form my own step.

Water dilutes
Clay molds
And color pencils unify


I have tried the unthinkable, along with the impossible,

Hoping for the unbelievable.


Pens doodle
Wood carves
And easers clean


I have learned along the way I am a perfectionist, with a tint of people pleaser,

Still trying to find my own clear cut path.


Rulers perfect
Easels stand
And paint palettes contain


I have noticed, only the best pieces are my favorite

Where I will spend forever on those, and no more than a day on the lesser.

Chamois blend
Gouache forgives
And wire flexes

And although many other thoughts fly
Through my head, they do not fit here,
But rather on canvas,
So this is the end.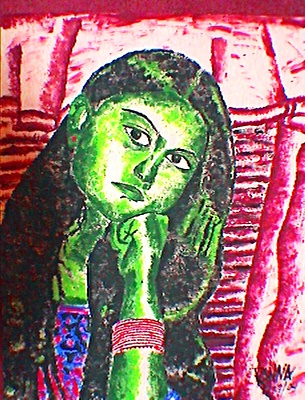 © Ranna C., Monmouth Junction, NJ