The Artist
May 18, 2012
The artist concealed the canvas with his exotic hues.
He paints clouds, hot air balloons, landscapes, and gardens.

Seated outside the corner deli through brisk February mornings and scorching July's.
He paints winter, spring, summer, and fall.

The man is friendly yet secluded on is wobbly wooden stool downtown.
He paints pedestrians, buildings, trees, and cities.

His hands ache in the summer, trying to win over the tourist's money.
He paints suitcases, planes, airports, and maps.

But he never paints to please the crowds pushing to see his work.
He paints logos, briefcases, suits, and couples.

"To fill in the empty spaces," he says when asked the question why.
He paints sponges, swiss cheese, parking lots, and seats.

There are no boundaries to the canvas and no limits to his mind.
He paints birds, flags, statues, and stars.

His hands convey life's adventures to the young.
He paints books, scenes, movies, and plays.

Everyday on that corner happy as the sky.
He paints light, smiles, friends, and music.

He shows us that we should all live like him.
He paints a wonderful life worth living.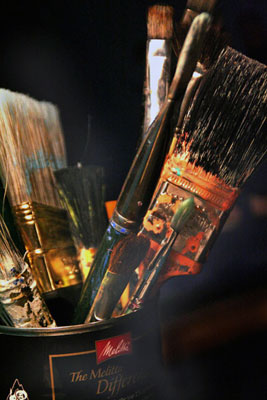 © Marina L., Orlando, FL