Excitement for Prom
April 30, 2012
The time is near for prom to arrive
Excitement is dancing in the air
On Thursday night, I go to sleep
Anxious for Friday to begin
I wake from a restless sleep
I begin to prepare for memorable event
I am with my best friends
We can not conceal the eagerness to arrive
Time for makeup, hair, and nails
When all is of these tasks are finished, we go home
I slip on the dress that I've had for many months
I look in the mirror hanging sturdy on my wall
My reflection looks at me and sees a pretty young lady.
The person in the mirror has transformed like a caterpillar to a butterfly
A few final fixes and I am ready for prom.
I glide down the stairs, glittering and grinning
My date is beaming with sartorial elegance
A million pictures were taken of my strikingly stunning group
We eat until we can not eat anything more
Finally, the time to attend " The Night in Classic Hollywood"
As I step inside the tremendous room,
I see lights, decorations, and many people.
I promenade into the room and I am on a cloud
This night is to be everything I could have ever imagined and much more.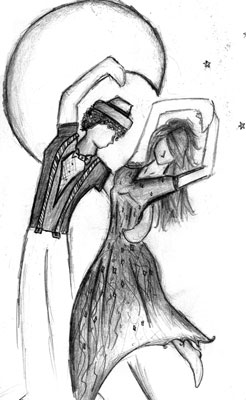 © Megan L., Everson, WA