Daffodils
May 17, 2012
Spring is here when the daffodils bloom.
Their petals branch away from their center,
As if to reach out to each other and bond as one beautiful field of yellow.
Because that is what daffodils do best.
However, there is one daffodil that the others can't reach.
They try and try to spread their petals out far enough to reach her,
But they just simply aren't close enough.
The lonely daffodil tries desperately to reach her fellow flowers.
She spreads her petals as far as she can reach,
But her roots are so far into the ground, that she cannot move.
Desolate, the little daffodil is faced with a choice.
Does she all bloom by herself?
Or wilt away to rid herself of loneliness?
Daffodils always bloom in spring, but now, the little daffodil is gone.
The other flowers miss her so,
But they know, that once they too wilt away,
They will join her in the garden,
Where daffodils are always in bloom.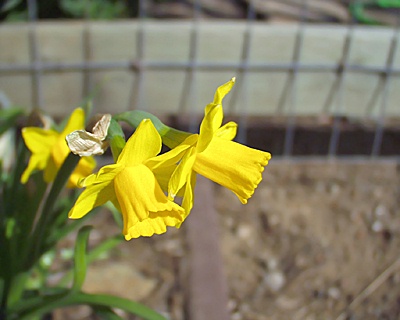 © Greg C., San Jose, CA