Dear Stranger
May 5, 2012
I look around and take a deep breath
staring up at the sky
at another sunset
the band starts to play
as another flag is raised
over a fallen hero's grave
Nameless
Faceless
His story remains untold
Who is this stranger who died for me at just (28) years old?
What were his hopes, his dreams
What did he have to go through so I could be free
So I could make my dreams a reality?

Dear Stranger,
I may never know who you are
But I'd like to thank you from the bottom of my heart
For every trial that tested your strength
And for every time you've lost your way
Thank you for all your tears and strife
Now here I sit at the end of a very hard life
I know there are many others out there like you
And for each one this word rings true
*Hero*
For no two stories are ever the same
And you don't even know many of these people's names
Like you they are strangers just the same
Nameless
Faceless
Yet driven by the fear in their eyes
You chose to stand and fight
It didn't matter that you too were afraid
It only mattered what was right
A false hero wouldn't have stayed
He wouldn't have willingly welcomed the grave
So thank you all heroes young and old
The men and the women
The living and the dead
For every one of your stories untold.
For each hero, a million tears could be shed
But my dear stranger, I would rather celebrate you instead.
I finish my letter and tear it up
Then I toss it to the ground as the wind picks up
Scattering the pieces.
The sky's grown dark
And the stars are out,
My dear stranger, are you up there now?
Are you looking down on me,
Laughing, crying, smiling?
Gazing out over the cemetary
I suddenly see
A million buried heroes, standing in uniform by their beds.
They're each smiling and one by one bowing their heads.
As soon as I blink though, they all fade away,
Leaving one lone hero standing by a grave.
He salutes and looks me hard in the eye,
I run to hug him, then start to cry.
The wind whispers his name in my ear,
The one etched in my heart that I've longed to hear.
Though I know I'm really standing there alone
I can't help but whisper, "Daddy I love you, welcome home."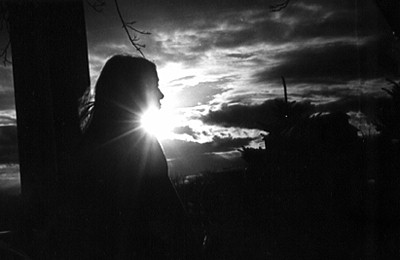 © Elizabeth G., Marblehead, MA