Chasing Fiction
May 12, 2012
There was Fiction,
Enveloping me in her
Ebony hair and ochre skin.

Her turquoise eyes spoke to me,
Glinting in the moonlight
As she danced in the flickering firelight
Of my imagination.

Her layers of exotic skirts flowed
As she moved with grace beneath the stars.

I tried to join her,
But she only twirled away.

Her voice called to me,
Begging me to love her,
To embrace her,
To remember her in the years to come.

Entranced, I pursued in hopes
That she would love me as I loved her.

In a flash, I was in her arms,
The sweet aroma
Of parchment and inspiration enfolding me
As we swayed to the tribal tune.

Our lips met in an instant
Of pure passion and intensity;
As quick as it began, it ended,
And she danced away with my heart.

I knew that moment this was my purpose:
To forever chase the beautiful temptress
Known as Fiction.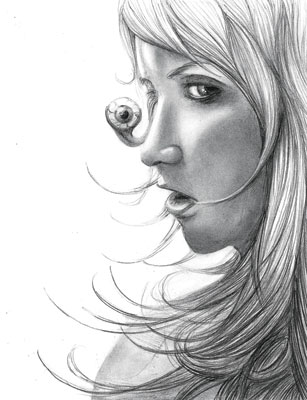 © Jessica P., Bethel Park, PA