A Night In Paris
May 1, 2012
I stopped there, and looked round the square. In my little French hat, pencil skirt, and wedged shoes, he looked my way, and might I say, he was cute. His smile was flashy and full of white pearls. I smiled back and gave my hair a soft twirl.

He made his way towards me, my cheeks turning pink. "Excusez-moi, mademoiselle," he whispered. "I couldn't help but notice your cute little wink." I giggled as he smiled and held his hand out for mine. I placed it carefully within his grasp, and he kissed the back so gently, it was like sampling fine wine. "Messieur, I must say your flattering, you are." It was his turn to blush, and in his eyes, a look that seemed afar. "My, my, I do not mean to offend, but I saw you there across the square and thought I might just give in."

His words confused me but I was curious. "Give in, why what do you mean?" Another pearly white smile, and it seemed that he did gleam. "Give in to my urge, you see I'm a very shy man. I don't do much talking, especially to beautiful women." My cheeks flamed once more as I glanced bashfully at the floor. "So I took a deep breath and walked your way, in hopes of my charms being enough to help me today."

I smiled, still flattered and gave his cheek a soft kiss. His accent was to die for, naturally French. "Well, your charms are quite lucky, I'll give you that messieur. Would you mind if maybe I bought us dinner?" His smile grew with radiance as he thought to answer. "Mademoiselle, I would feel ashamed. Let me buy us dinner, now that would be okay." He took my hand once again, and led me off into the night. We spent hour upon hour, having dinner beneath the Eiffel Tower, and in that last little moment I was absolutely sure of one thing. This man was the man that I would spend the rest of my life with.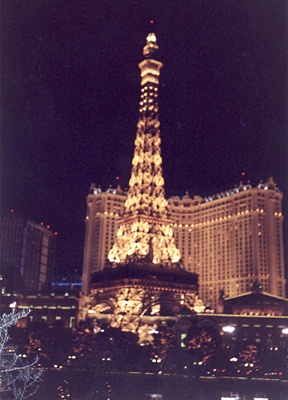 © Kevin H., Houston, TX