My Life in Soccer
May 17, 2012
The soccer ball now is torn, tattered, and mangled
When I first got it there was nothing better

It was a black and white ball made by
Adidas
It had hexagons and pentagons

This ball brought me good things and bad
From bruises, scrapes, and welts,
To ribbons, medals, and trophies
It has brought me much pain, sorrow, and grief
But also some of the best memories I have ever had

I remember when my dad first gave me the new soccer ball
He said, "Blake, I got you something. It's a soccer ball."

I remember playing with it all day long.
I would play with it for hours on end
In the games this practice all paid off
I would dribble, shoot, and score.

When this ball finally tore, I was blanketed in sadness.
I knew I would get another ball, but I had made so many memories with that one
I finally moved on to the next ball.

Letting go was near impossible for me.

But in the end, if I didn't let go of the past, I'd never realize what's in store for me in the Future.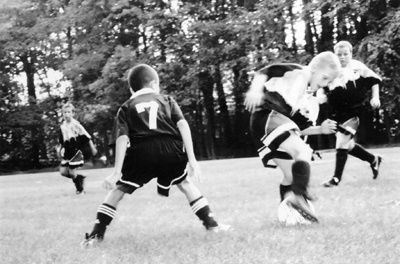 © Daniel W., Mount View, NJ