Frightened
May 17, 2012
Do I still hear them?
Yes,
Every night the rustles in the grasses,
The noises that precede a man's last breath as he is gunned down,
By an enemy they will never meet,
An enemy they will never see,
Am I scared?
Of course only a fool wouldn't't be!
I am terrified!
But I'm more scared for my pride should I not fight to the end.
After all out here in this perpetual hell,
I have nothing else to cling to,
Nothing but the cold fear of gruesome death.
I came here to fight for my pride as an American,
If I hadn't what would I have to come back to?
Nothing, just ridicule and disgust.
I've often wondered if it would be worth the shot off toe just to be free of this hell,
But no, I must trudge on,
I must endure.
They tell me to just think of the happy faces and joy we'll go back to,
That's right just think of their happy faces!
Focus on it focus on anything,
Anything except the bone chilling fear.
Ahh!! What was that?
Oh…..only the wind….
It's just the wind.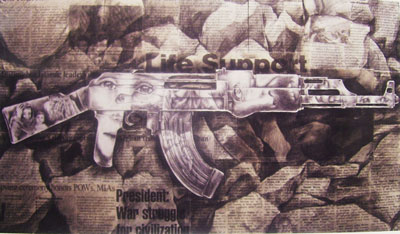 © Claire V., Lubbock, TX