The Tree
May 16, 2012
Two lovers,
Out for an afternoon stroll,
Notice a seedling
Squeezing out from a crack
In the cold stone sidewalk.
Remarkable,
That it can force through,
But they don't care.
How small and pathetic
The tree seems to them.
They step around,
Discarding it from their minds forever.
That tree
Is me.
I am small and weak,
But I force my way out of my cemented prison,
And inch by inch,
I grow.
I am the only one of my kind,
Desperately clinging to survival,
Plagued by fear of being forgotten.
Do not ignore me so casually!
Someday,
Far in the future,
My branches shall graze the heavens,
And stretch as far as the eye can see.
Nothing you can do will hurt me,
My trunk will be firm,
My roots deep.
You can come, woodcutters,
But your axes shall never breach my bark,
My shell of protection.
You may damage my bark someday,
When sweat plasters you clothes to skin,
But although it will be scarred,
Hideous to behold,
My core shall remain untouched.
You will never truly harm me.
And every day I will continue to grow,
My roots depriving Earth's very core of oxygen,
Freezing it forever.
I shall exist in all places,
New branches sprouting in every corner of the map.
I shall be the most powerful being on Earth,
The One tree,
One tree to rule them all,
One tree to find them,
One tree to bring them all,
And in the darkness bind them.
No enemies shall escape my strangling limbs,
And no friends shall be denied shelter under my leaves.
Nourish me in my weak state now,
And I will repay you.
I shall be your home,
Life shall flourish within my veins,
All light shall be absorbed,
And nothing will remain out of my sight.
I will know all,
See all,
And love all willing to accept it.
I will be the new Yggdrasil,
And all shall be mine.
But first,
I must break free of my entrapment,
But someday I will be,
So be there,
For me.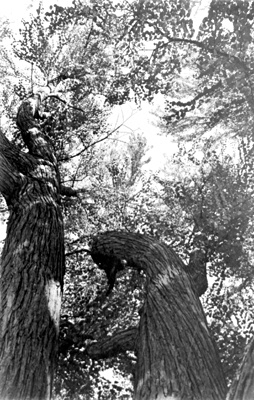 © Tim K., Marblehead, MA