Truth Behind the Mirror
May 16, 2012
She looks at herself in the mirror
And for the hundredth time wonders,
How her life would be like…
If her nose was smaller,
Lips fuller
Eyelashes longer.
She smiles
But,
Quickly frowns at her reflection.
Why can't she look like
The celebrities on her favorite magazines?
If only she would realize,
That her genuine smile
Holds more beauty
Than
What the media spits out and
Labels as "beautiful",
"flawless".

People nowadays seem to
Forget that computers have the ability to
Remove imperfections.
Only giving the person's appearance to
Seem flawless.
The media wants people to
Think
If you are "gorgeous"
On the outside
It instantly makes you pretty
On the inside.
When in fact,
True beauty
Lies within.
Having a beautiful soul
People need not worry about
Their exterior because,
Their interior makes
Their exterior
Beautiful.
Go ahead,
Wipe away your tears.
Work on being a
Better person.
Stand up straight,
Remember that you are stunning
No matter what the media
Says.
Go outside.
Show the world,
Your smile.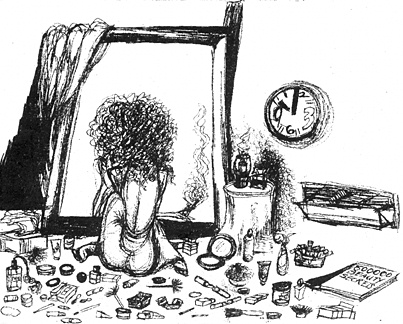 © Asha M., Philadelphia, PA