I like the smell of a Chinese cigarette
May 14, 2012
I like the smell of a Chinese cigarette.
The way the smoke pricks your nose,
the glow of the embers
breaking into the night,
as I stare through the hatched screen door.

And I like to stroll into the kitchen.
One hundred welcomes,
a slap on the back,
a bruised English accent,
a crooked-eyed chicken,
the hiss of sesame oil
ravishing broccoli.
The colander holding its own,
preparing a meal for a couple.

And I like that couple,
the prudent one,
careful to arrive past seven,
gliding in wearing corduroy, calico, and denim,
a corked bottle of spirits,
their table set,
the miniature wine glasses impatient,
the chopsticks restless,
the man's grin –
and the woman's laugh,
bringing life into an old Chinese restaurant.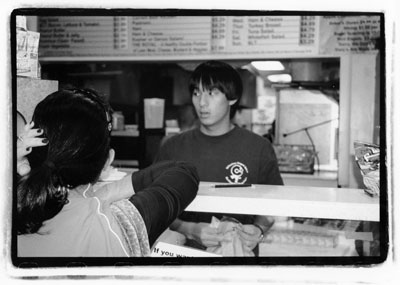 © Rachel D., Bethesda, MD