Poetry For the Young
May 14, 2012
Tears
Trying to not let anyone see when I've reached this state is not as easy as it appears.
All my emotions bleed free. The frustration and rage, sadness and depression, seeping out of my tired heart while he screams into my face.
My eyes begin to burn and sting, while looking for help in the right direction. Every pain frozen, except for the grasp of which he is holding me by.
I hate exposing myself in a manner like this.
Concerns from people who don't even know me is all that I get.
Steaming hot tears fall, leaving irremovable trails upon my face.
Ignoring the smell of alcohol mixed with dry breath, I only hear the splashes of my tears drop to the floor.
My emotional state I now wish to erase.
I am cracking under the pressure he made for me. What a wonderful gift, doesn't it seem? Spacing out, but still my tears keep flowing.
Finally her hands pull me away from his wrongful doing.
Praising the lord for her presence, I begin to gasp for air. Curse my sensitive soul, this pain I don't wish to share.
Help finally come, but wait I'm the one being blamed.
How can it be that he gets away with everything?
Night turns into day, everything is gone, but the tears keep on coming, because the pain he caused me still remains.

Anywhere but Here!
I bow my head to hide my tears from rolling down my soft cheek.
I try to think of a better time we've had and desperately wish to be there now.
Anywhere but here is fine.
You stare at me with those eyes I love so much.
I wish we didn't fight so much.
I try to push you away.
Anywhere but here is fine.
I wonder for a moment if possibly I'm dreaming and soon will be waking up next to you smiling the way we were yesterday.
Anywhere but here is fine.
I show a moment of weakness and take a glance at you.
Only to find more tears rolling down my face.
Anywhere but here is fine.
Gently you pull me toward you and tenderly wipe my tears away.
Holding me with your love and care, you shelter my heart in your arms.
Right here will do fine.

Am I Pretty Now?
A few words are all it took.
"You're fat!"
"You stink!"
"You're poor!"
"You're ugly!"
"You're worthless!"
"You're pathetic!"
"Nobody likes you!"
Everyday she had the same routine.
Came home from school and ran into her room to cry. She thought that no one would care if she were to just curl up and die.
One day she finally had enough.
She locked herself in the bathroom
She grabbed her favorite lipstick and put it on
She seized the blade she had used many times.
But this time it did more than leave a scar on her soft skin.
Her vision started to fade.
And just like that she fell to the floor with the words carved in her wrists,
Am I Pretty Now?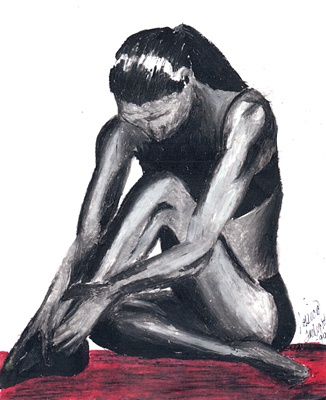 © Jessie Y., Ahwahnee, CA