Influential Teacher
May 14, 2012
The ship leaves the dock,
Heavy with promise and pride.
The course is set, and the compass aligned.
A steady wind blows
that pushes the gallant vessel away,
Into the deep unknown.
A hand guides the tiller,
as another rests upon the mast.

The wind, once so gentle and kind
Swirls into a gale that buffets the boat.
Groaning, boards creaking,
a snap is heard below decks
As the vessel, which had been so confident and keen,
Meets the snarls and growls of the storm.
Now rain lashes the deck and lightning rips the sky asunder
Into a jagged, twisted visage.
The course, once so clear,
Now falls into darkness and confusion.

Yet a pair of hands never leaves the wheel,
Hands lined with experience,
molded by those that came before,
Settle the shuddering craft.
Nudging, correcting, leading but never overpowering,
As the vessel nears its final, distant port.

Typhoons rock the roiling, frothing sea,
And the prospect of failure rears at every point.
Yet those hands never leave,
Never leave the ship alone to its troubles.
The clouds collapse!
With the roar of a titan the boat along the water,
Into clear skies and impending prospects.

Yes, those hands brought the vessel home,
And saw it through its most difficult journey.
Thank you,
For those hands that influenced me so.
Thank you,
For helping, teaching, never leading,
and guiding me ever onward.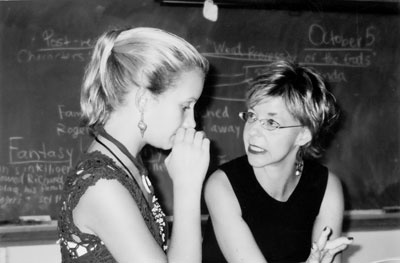 © Olivia L., Pompton Plains, NJ