The Mind
May 9, 2012
An unknown world,
A clam that just won't budge.
We all want to know the secrets that lie inside,
But do we really want to know?

Some say we control the mind,
But doesn't the mind control us?
The power station of my body,
Controls my every move.

Absorbing information like a sponge,
Remembering faces from long ago,
Dreaming of places I would like to go.
The mind doesn't stop.

The mind doesn't stop thinking.
The mind doesn't stop doing.
The mind doesn't stop wondering,
The mind holds a billion secrets..

… Just waiting to be discovered.
My heart beats to keep me alive,
And though it thinks only sometimes,
It is always questioned by the mind.

As long as the heart beats,
My mind will think.
And every little thought,
Is mine.

The mind is like a treasure box,
Hidden inside is a map to my personality,
My emotions and my feelings.
Each precious memory is a shining gold coin.

Inside of this treasure box,
Is hidden a key.
A key to the world of dreams,
A world so great that not even Einstein could see.

This key has locked away my deepest secrets,
And has unlocked my greatest insecurities.
The mind is a creator.
It creates dreams.

Dreams create hope.
Hope becomes action,
That ignites the flame of passion.
As we doubt, that flame wavers.

Not all things locked away in this chest are good.
Fears, tears, and phobias.
Many memories meant to be forgotten.
Paranoia, panic, and pain.

The mind has the ability to quietly say
"Keep going, you can do this."
And maybe, that's how we're all surviving.
Without that extra push, we would all shut down.

But the voice in your head,
That tells you what's right from wrong,
Will always guide you.
Your mind is your shield from the outside world,
from the darkest of times.

The mind conceals the greatest mysteries,
And maybe it's just meant to be that way.
The mind is a personal diary,
Where my secrets are safe, and sure to stay.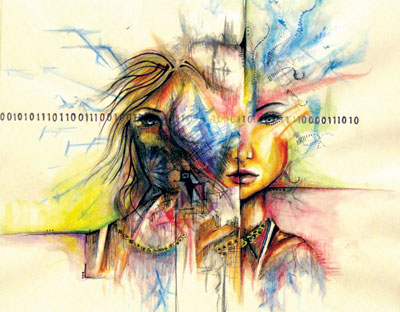 © Melissa W., Fayetteville, GA