"Coming Home"
May 3, 2012
The war is here,
He has to leave not be near,
Must kiss his wife goodbye,
Be back soon please don't cry,
Fight for us remember you'll soon be a dad,
I can't raise this baby alone; if you go it'll be too sad.

Being away from home was like keeping the dogs at bay,
To his delight he received a letter at the end of the day,
He opened the letter and wondered what she'd say.
"Dear my beloved a son has come our way.
He sleeps so very soundly, because to him there is love,
As you should as well, please now send me a dove."

Soldiers have great feelings, as much as any other,
Together they all know each other by brother.
Right now this man had determination,
And had to use his feelings for configuration,
He knew he must one day see his son,
"Just when," he thought, "would that day ever come?"

Many of the soldiers, brothers got shot and fell
But the man had something to live for, the man knew very well,
If he tried to live and thrive as best he could,
Going home would be bliss, and he would
He knew he was going to see his son,
"Soon," He thought," it would have to come."

White, bright shiny were the hospital walls,
Little, sick and feeble were hobbling down the halls,
But the soldier didn't feel feeble,
It was just his leg, keeping him didn't seem legal,
Not after winning the war,
In his heart he longed for his family, strait to the core.

The mother knew he had to be somewhere,
Calmly stroked the child's soft hair,
Eager to see his father he could now walk,
War had been so long he could also even talk.
The mother knew he was in hospital care,
Just a little while longer they'd all have to bare.

Finally upon seeking the right room,
They noticed a deep dark shadow gloom,
The man sleeping heavily in the bed shaggy, and unshaven,
The man didn't like his safe haven,
He fought a harsh war and won,
He wanted to see his son,
And that day had finally come.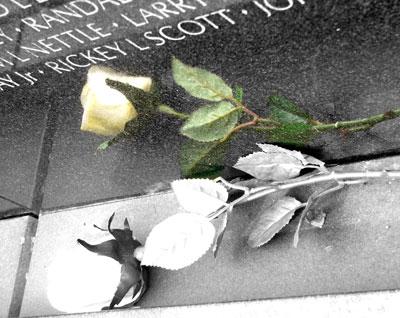 © Kimber E., Yorktown, VA