Hint of Sunshine
May 11, 2012
Dark Blue
hovers over me
as I clutch onto Jessica's jacket.
The air is icy,
sharp.
My face feels frozen,
as my fingertips slowly turn
that dark, eerie blue.
I don't like this kind of blue.
It's bitter and heartless;
How can I relax
when I can't even feel my hands?

Black
is sinister and terrifying.
As Jessica and I approach the
rickety roller coaster,
with the fast black track,
black wheels,
and black carts,
I can't even breathe, and
I don't want to do this.
I hate black,
but Jessica loves it.
She embraces it,
always looking for a thrill.
I, on the other hand,
lean more towards white.
Boring,
bland,
serene
white.

Yellow
is the expression on Jessica's face
as we climb into the first cart.
It's the color of the seatbelt
that's there to protect us.
Yellow makes me feel safe
and warm
against the chilly October air.
But then I gaze at the black track
in front of us.
No matter how much yellow there is
to brighten the day,
black will overpower it.

Green
is the color of my vomit
that slides down the side of our cart
after the horrifying ride.
It's the color of the Sprite can
I drink from,
trying to calm my upset stomach.
It's the color of the hope I'm given,
because I no longer feel sick,
or woozy
or anxious.
I'm just relieved it's over
and that I never have to do it again.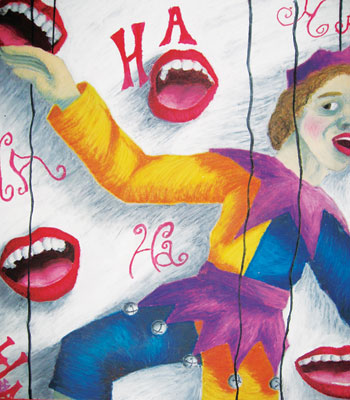 © Carollynn G., Hawthorne, NY