That was a lie
May 10, 2012
So tell me, what happens when you leave?
Am I supposed cry, just die?
Supposed to fall to the ground?
No, I'll make you wish you'd turned around!
Make you see me, the girl that I am.
I am strong, please, at least try to understand!
Have you ever really looked,
Really wanted to see?
Do you want to know what happens to people like me?
We stand.
We fall.
And then we do it again.
It's like an institution made up of these men!
We're crazy, just say it, but we already know.
And we'll be ready for you if you try to take control!
We know what must be done,
and so we've gotta do it.
Don't go, not yet, I've still got a bit.
So listen well,
I've got to excel!
I've planned it all out,
my rise to the top.
And I'll be runnin' too fast for you to yell, "STOP!"
'Cuz, I'm leavin'
I'm goin',
I'm goin',
I'm gone,
And you've gotta just know that you've always been wrong!
You said I couldn't do it,
That I wouldn't even try!
We'll now everybody knows,
That was a lie.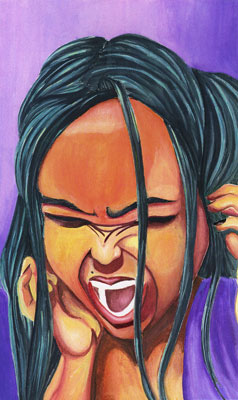 © Kriztille J., Briarwood, NY