Wingless
May 8, 2012
The angel sleeps on a cotton boll
filled with enough ignorance
that the seeds don't poke through.
She decides what to dream
about beforehand.
You think she's pretty
antiseptic, but truth
is her mouth's just numb
from the Novocain.
Why is she faceless?
I want to Sharpie little dots
where her eyes should be.
I bet God only gives eyes
to people who believe in him.
You think she would.
She's an angel, after all.
She hides secrets
in her apricot wings.
Her golden tiara
is made of defiance.
She ties a bow
around her neck
and claims it's for breast
cancer awareness, but really
she just likes pink.
She grades life
on a curve,
never really taking it
seriously, only in it
for the flying lessons.
A price tag clings to her halo
by a few elastic threads.
She never imagined
it could break. She never
knew she would fall.
She never thought
she'd be able to fly.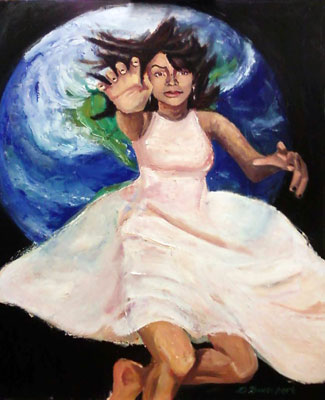 © Dominique D., Ozone Park, NY