The Big House
May 8, 2012
The city is alive.
Signs heralding twenty dollar parking on every corner,
Fraternity house's lawns worn bare from non-stop partying.
Delicious smoke rising from grills in every backyard.
Team merchandise being hawked from every street-side stand.
As if the fifty foot long flag flying in the town center didn't say it enough,
Everyone knew what today was:
Game day in Ann Arbor.
As I walk through the campus in awe of my surroundings,
Over one hundred years of nothing but history,
I can't stop the feeling that I'm now a part of the family.
The family is the thousands upon thousands
Of Blue and Maize covered fans that swarm around me towards the stadium.
And then it hit me:
The Stadium,
Excuse me The Big House.
It was the largest single structure I had ever seen in my life
And it was all dedicated to football.
After many minutes full of staring dumbfounded at its massive walls,
I found myself in my seat.
Though there would be little sitting at this game.

The amount of pure noise at opening kickoff was ear-splitting.
Over 114,000 people cheering in unison for one team,
The victors, the Michigan Wolverines.
And of course whole-heartedly booing the Fighting Irish.
Throughout the game every fan became a part of the cheering mass,
And yelled until they couldn't yell anymore;
Then kept yelling some more.
The stadium was a different planet,
The massive roars and bright Michigan colors separating it from the rest of Ann Arbor.
The closing seconds were approaching and for once the stadium was quiet.
Michigan was behind one touchdown with less than thirty seconds to go.
The hopes of the entire crowd were riding on Denard Robinson's shoulders.
He let the deep pass go and the stadium exploded.
The receiver caught the 40-yard pass for a touchdown!
Michigan Won!
The band was playing Hail to the Victors,
And the crowd was making more noise than I had ever heard.
This was just another night in The Big House.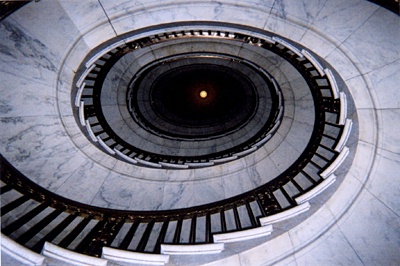 © Kyle T., St. Joseph, MO