That One Swing
May 8, 2012
What is the meaning of






Life?
What exactly is our






Purpose?
How did we get






Here?
Where are we






Going?
And how do we get






There?
Don't you just wish
You could go back to






The good days?
Back when you never
Really had to worry about






Anything?

Back when the only thing, was that you have to run out of the door first to get that swing on the playground. Your feet hitting the gravel as fast as they can just to get that first swing. Your heart pounding, adrenaline coursing through your veins. Your sweaty palms reaching those chains, hoping that you won't fall in the race for that one swing. You may be a chubby little 4th grader but, man you really want that one swing. The swing with rusty chains and a pale little blue seat. You're thinking 'man if I don't get that swing I'll never go out for recess again.' You see it. It's almost in your grasp. You stretch your arms and… you have it! You finally got it, you got that swing. You may have stumbled a little bit but, you made it! You sit down, the seat is warm- sun kissed even- but, the chains are icy cold –just the way you like it-. You just sit there thinking you're so proud of yourself. You got the first swing now, all you need is just a little bitty, teeny tiny…push.
Life is just a whirlwind of





Emotions.
Sometimes you just have to sit
Back and just enjoy the





Rollercoaster
Relax and enjoy your





Life.

Cause if you don't you just might miss out on something…spectacular.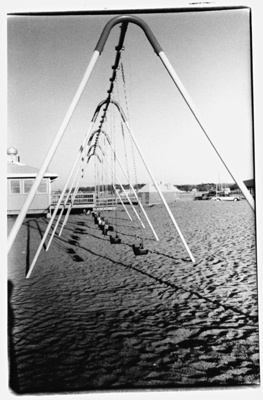 © Gina M., Marblehead, MA