Intertwine
May 8, 2012
I love the word intertwine. It's so /
beautiful. /
A word packed with love and entangled /
emotions, intertwining love in /
intertwined hands. Twine— /
a silky thread—delicate, sensitive, /
soft to the touch and this twine /
wraps around you and through you /
to join together /
two people. Inter- /
connected emotions, rhythm /
walking in sync, /
dashing across the streets with knees bent running /
in perfect harmony are /
our thoughts, me and you /
you and I /
intertwine like /
intertangled legs on the bed of grass at Central Park, /
a mother spider weaves her /
web of fine silk glistening with /
light morning dew and she spindles /
down her web on one fine thread—that gentle /
but strong connection like when our /
lips softly touch and don't want to stop, our /
thoughts intertwine.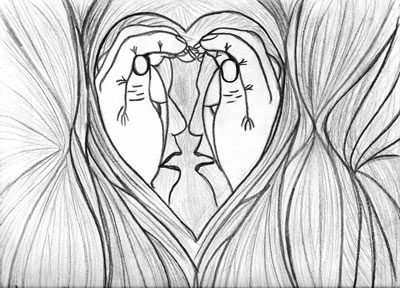 © Roumany P., St. Paul, MN