Micah
May 7, 2012
I am a mountain rubbed in sighs; my heart, a mass of weeds and hills that glow softly as
They beat gently as they roll slumberously in and out of my mind.
My valley is filled with tears but is still more beautiful than these trees baked in sobs
And this night of mine is perfect under a half waning moon with half waxing eyes.
A breaking, rolling, heartfelt pass of vented anger; avalanche of mirrors
Staring softly back with eyes of their own; eyes that I've never seen before.
Sounds so barren glistening freely in the fire of my sight
The way is lost and none other can be built from splintered beams of glass.
Passing fancies briefly move me from without my star crossed mind
And the brute hands of Micah curl smoothly over my feeble skull.
He lifts me gladly from the rough bed of steam cut diamonds
And he places me, throws me onto a rough card of crystal hearts.
Micah laughs, a great bellow from the ribs and shaky sides
Reminds me of coal in a shallow pass being carried by broad shoulders.
The floor that is beneath me tumbles with chattering conversation
And the minarets approach with words and slings.
I laugh too when I see the chorus symmetric
And the words dance the classics in the space between my smile.
Micah throws bricks and slurs of words at the pleasant talkers
And they retract with the sun and stars back into my face.
The marks are red as laughter, red as pooling blood in my eyes
And the nitrous meter is grinning and crying shells of painful jokes.
Micah grabs my eyes and pulls red venom out from me
He recoils to find that eyes are empty and he can see through to what I see.
Micah sees the sun-kissed alabaster of a cloud born castle;
Flags of granite, cool stone, waving in the electric breeze.
He sees the moat full of wishes and praying hands reaching to his gate
And he knows that he is this tower, tall and proud.
A homesick whale built of garnet drifts lazily by his windows
And Micah plucks this ruby construct from the dizzy heavens and rests it upon his brow.
He pulls the red from timid features that twist and laugh and shout,
And when he is done that homesick mountain is glad.
Micah turns to me with the face of a grandfather who has struck too early,
Expressions twitch like doorbells under uncertain fingertips,
And he retreats to beneath the arch of my back.
I find him there swearing and weeping in locust tongues.
I ask what is the matter, I question, I speak,
But tender Micah only minds the tiny aperture in my eye.
"I did not know what we were until today" sounds the clock.
As he speaks he looks back into the distant landscape of my sight.
Micah sees the moon, hanging lowly like a dropped marble;
Surface buzzing with the activity of a thousand clapping hands.
He sees the craters full of eyes asking questions he cannot answer
And he knows that he is this moon, bright and full.
A lonely asteroid wanders by, red as his mother's love
And Micah grabs this comet from the blackened night and rests it upon his cheek.
He drinks the red from roughened surface and spits out bitterness and dust
And when he is done that lonely asteroid is glad
Micah faces me with the expression of one who has seen his youngest father
His face boils over as a cauldron filled to the brim with ice
And he retreats to under the crook of my arm.
And I find him there speaking and shaking in frigid notes.
I ask what is the matter, I question, I speak,
But little Micah only minds the smallest aperture in my eye
"I did not know what we were until today" sounds the child.
As he speaks he looks back into the guarded vista of my sight.
Micah sees a child, not yet old enough to speak shells;
His face buried in smiles with the most tender of kissing lips.
He sees the feet bound in sweet smelling cloth and broken glass,
And he knows that he is this boy, young and strong.
A brilliant man walks by, red as the blood in my eye
And Micah hugs this man and is cradled in the wealth of his hands.
He kisses the red face and laughs like the summer sun taking the red with him,
And when he is done the brilliant man is glad.
Micah comes to me as one who has become brittle with laughter
His face cracks and creases at the edges with tears of fire coursing through.
And he races to the front of my eyes
I see him there singing of marbled hats and glassy strides
I ask what he is feeling, I question, I speak
And bold Micah grins from hammer to bell with delight
"I did not know what we were until today" sounds my son.
I smile, pick him up, and wipe the red from his eyes too.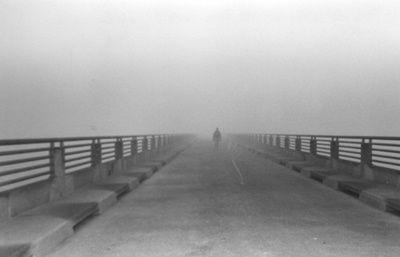 © Becky G.,Westerville, OH