The Sea Pronounces Something Over and Over
April 28, 2012
Alive by the heart and dead by the brain
Lost in the spaces between the shadow and the soul.
Quiet and unrefined.
I can feel the rope burns throughout my skin,
You are the noose around the spaceman's neck, swinging him around the stars
So he can close his eyes silently and without thought.
You are the steam, laughing on the windowpanes,
Cold condensation that seeps in the crevices between the shadow and the soul.
I eat polite and sleep polite.
Quiet and unrefined but my lips are held tight so no one will notice me.
I walk in circles and in trances, bumping into walls and doorways, unable to slow the pace.
I can feel the blood from my heart crawl out of my legs, down into my shoes
And they make puddles awkwardly placed along the linoleum. Sorry for the mess.
You are the steam, laughing out through cracks in the windowpanes.
You join the psychosis in the stars and kiss the spaceman's glass suit before you fall into the sea. He pronounces something over and over in a hoarse whisper that I cannot make out.
The sounds that tease me, the salt that aches me. The pain begins to be sour by the minute and sweeter by the hour, close and comfortable between the shadow and soul.
Oh when you look at me like that, my darling, what did you expect?
I've let you down before and I'm sure to do it again.
I'm just so sorry for the mess, so sorry for this stress.
I just wish you had enough sense like the rest of them so you could have forgotten my name years ago.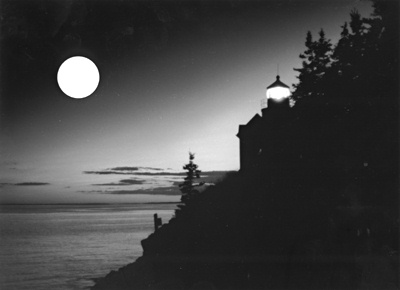 © Steve S., Marblehead, MA