A Football Game
May 3, 2012
We do warm-ups. I'm a horse being saddled.
We go to the coin toss. All bets are on me.
We line up to kick-off. I'm waiting behind the starting gate.
The whistle sounds. It's a blank being fired.
I take off running. I'm starting in first place.
I dodge a blocker. He's a rider trying to pass me.
I trip over a fallen blocker. It's like stumbling in a race.
I get back up. I'm coming back for the lead.
The kick-returner fumbles. I'm passing the lead horse.
I pick up the fumble. We're neck and neck.
I sprint for the end-zone. We're on the home stretch.
Touchdown. First place by half a length.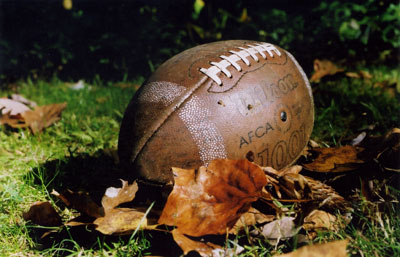 © Michael L., Bethesda, MD