My Daddy's Proud of Me
May 1, 2012
Little footsteps pitter-patter

across the hardwood floor.

They once were mine, but now I listen

to my little sister's happy feet.

Time's gone by and so I've changed,

high school now comprises my life.

But when I grew up I left behind

the me I used to know.

I was Daddy's Little Girl

and Mommy's Special Helper,

I was innocent and bold.

Then I grew up and left behind

what the big, wide world stole

from me.

I wanted independence,

I wanted to rebel,

I thought they were holding me back,

forgot they were just afraid to let me go.

We yelled and fought,

I slammed my door,

anger receded only to swell again.

I am their biggest disappointment,

a failed experiment gone wrong.

So let us hate

and spew our fire,

see if I ever care.

I'll make it out of these walls

of this place I used to call home.

I'll leave and never bother you again.


One day came though, one precious day,

when my daddy turned to me.

He gazed at me with his serious eyes,

his compassionate eyes I hated loving.

He said, "I'm so proud of you."

And I responded, "No,"
and turned my back walked away,

leaving him by my mommy's side.

I hated loving those eyes.

But then I cried

and cried, and recalled

watching my mommy's tears fall all
those times,

and I realized.

They never once stopped loving me.

Even when I pushed them violently away,

rejecting what I needed most,

even when I tried to fill that empty hole

in my empty heart

that only they could fill.

They never gave up on me.

So forgive me mommy, forgive me daddy,

because I love you too.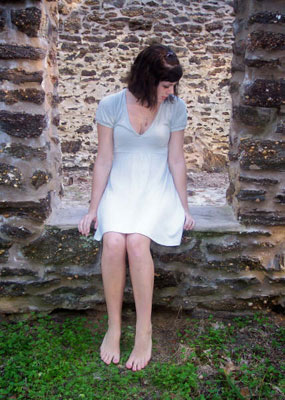 © Katie S., Vineland, NJ