The Smile
April 23, 2012
He stared as she took her seat.
Her smile sent tingles down his spine;
Mustering up the courage to speak to her
He lifted up his glass of wine.

Her face, nothing short of perfect.
Her red dress clung to her slender body.
As he walked across the ballroom
He wondered if she'd take this man, so shoddy.

He knew nothing of this lady in red
But something drew him to her
He took a seat at her side and smiled
Her visage shone with a deathly pallor.

The smile faded from his lips
As he remembered that beautiful face
He'd seen it in his dreams as a child
It was always behind the curtains of lace.

This lady had haunted all his nights
She'd been the subject of every nightmare.
But somehow, always smiling;
Smiling with an aura of despair.

Who she was he had no clue
Why she came he didn't know.
As she moved her face closer to his
He remembered that night – long
ago.

He remembered her voice, slow and shrill
Telling him of her death.
And how she was killed by a little boy
Who was responsible for her last breath.

A boy not unlike yourself, she said
With a smile on her face so fair
The smile that he was unable to resist,
A smile for which he had grown to care.

She'd stayed away for a decade and a half
But now he'd be ready, as would she;
She'd take this man's beating heart
And her spirit would finally be free.

She stood up and walked away from him,
And into the empty corridor.
Turning back, she waited and watched
As the man followed, through the door.

The man couldn't stop, and knew not why
He was at his wit's end.
He finally understood what she was about to do
And prayed and hoped that God was his friend.

Ah! You see, the world is never that kind.
But it was too late to learn this truth.
As she slowly reached out for his neck
His memory found him in his youth.

She wrung his neck and took his life
And looked around for the light.
It did not appear; it did not come;
So she walked with her smile into the dead of night.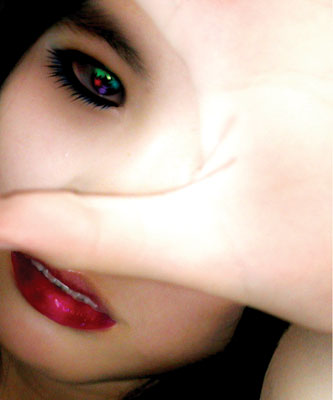 © Victoria W., Arcadia, CA