I'm sorry.
April 29, 2012
It was like… having a primrose replaced by a thornbush.

Thick needles, like knives, piercing through the insides of my thighs

& up through my stomach.

Into my throught and through my figertips. Pain.

Sharp and Sweet, not Short though.

No matter how hard I scratched, I screamed I could never get out of the thorns.

So dense under my skin.

Like a rose, I died in Winter.

Without you, my dear sun I did not have a purpose for living.

How tragic.

& how awful for you to leave me, to let me die in the cold, dark snow.

But you came back, after realizing the other flower's beds weren't as good as mine was.

So I bloomed, and blossomed like a bride on her wedding day.

But you left. Again. The brutality, the cruel sun you are.

But how can I blame you?

It's not us but the monsters sending out Carbon into the atmosphere.

It makes you angry. Hot. Like the passion you and I once had.

But another Spring came. Without you I bloomed for another sun and you wanted me back.

I grew up, Blake. I'm sorry. I don't believe in your fairytale any longer.

I am a princess in a new story and you are a deranged soul that's seems to be putting excess carbon into your own atmosphere.

You're toxic to me. I'm sorry, but I am not letting you hypnotize me once again.

I don't want to be a poltergiest any longer. I want to live and love without always waiting for you to come back to me.

I am not your giving tree anymore. I'm sorry.

I found someone else that will actually water my deep roots, and let me keep my branches.

I love you though. I love your abuse and poisenous words. you will always be my bright sun, but I have to move on.

I'm sorry.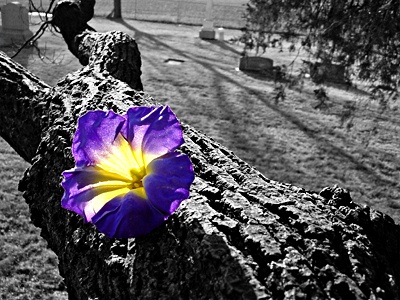 © Greg K., New Lenox, IL