the mess you created in me.
April 27, 2012
one day i hope you see. the giant mess you created in me.
I'm suppose to feel safe. happy in free.
Now im afraid of who i have to be..
i look so strong. but im really not.
i remember all the times that we fought.
You'd beat me sinceless. threaten and curse.
everyday things got worse.
People stared. but wouldnt help.
He'd try to beat me with his belt.
the days got colder and i got full of fear.
Guess what? now its been a year
Another day another tear.
Now im hoping the end is near.
How to i escape? how to i get free?
from the choke hold you have on me.
My fear is strong, its becoming hard to breathe.
I just want you to leave..
If i try, the pain gets worse and Your stealing from my purse.
You punch and scream. there's no end it seems.
This is like a dream, a nightmare filled dream.
I keep asking myself " when will it end? when will it stop?"
I need to rise to the top. when will MY life finally begin?
and Your hold upon me end?
Its getting dark, the stars start to shine.
This is my only moment of peace, i wish i could freeze time.
I wish you knew, all the pain you do.
The effect its caused. rips at me like lions paws.
Another day full of fear. Why wont anyone listen? why do they refuse to hear?
Are they afraid of the truth? so they blind what they see?
or do i deserve what he does to me..
My eyes are black, my skin is blue.
Now what am i suppose to do?
I hide in fear, i will not speak.
for if i do you release a terrifying shriek.
What you do is excruciating and very dizzy making.
My head spins with pain. My eyes pour out rain.
Do i deserve whats happening to me?
how to i leave naturally?
I try to leave and get some help.
But he finds out and adds more welts.
How to find freedom? free from the hurt.
Right now i feel like all my hopes been burnt.
your choke hold gets stronger, my air starts to stop.
why does everyone just sit back and watch?
they say they understand.
they say they care.
but they cant, its not fair.
now your pulling at my hair..
i cling to anything, i fight for my freedom.
i wait for the day that the police comes.. i wait for the day my peace comes.
but it never does. it never does.
3 years later. you are forced to leave.
but all the abuse is stuck up my sleeve.
i cant forget. i cant forgive
i no longer have will to live.
no one knows the pain i felt.
i am alone i have no help.
i tried to tell, but i always failed.
my depression kicks in, and with every passing glare the fear shows.
my soul feels sunk into a deep dark whole.
It hurts to breathe it hurts to survive. because every day i feel like im living a lie.
ive met some people. some people who felt my pain.
and suddenly i feel a little stronger.
the pain is still there, and im fully aware.
i still fear that my end is near.
but hand and hand with those i love.
i shall sore high, very high above.
i'm safe surrounded by those i love.
i am not healed, i never will be.
and no the pain will never set me free.
but now i am stronger.
maybe now ill last longer.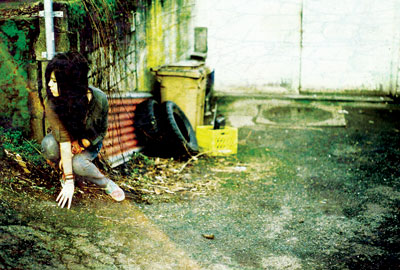 © Hailey J., Lake Oswego, OR